Pretties,
today I have something for you that I personally find very exciting. It will be a lengthy, picture heavy post so I've added a break.
By now everyone is familiar with indie polishes and can name two or three brands. Relatively harder to find though, are European indie polishes. I think this is partly because it's just so friggin' hard to get a good suspension base here. Most companies are hesitant to risk shipping them due to shippers' policies.
So, you can imagine
how excited I was to discover a Dutch indie brand! Guys, let me introduce you to Let It Glitter.
And really, the name says it all. If it's not glitter, this girl isn't making and selling it. I decided on half of the Christmas collection. The Christmas collection is divided in two sets (clever!), being '
Winter
' and '
Wonderland
'. I got 'Winter', and today I'm showing you the polish that made my mind up <3
The polishes arrived quickly and there was a personal note attached. I just love that <3
First, this is 'Winter':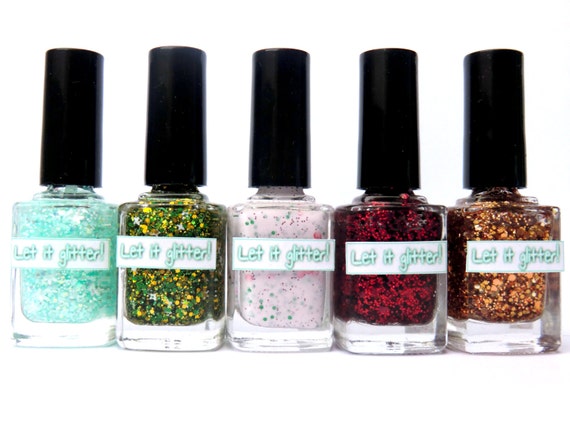 Let It Snow, Christmas Eve, Jingle Bells, Santa Baby and Gingerbread Man (Etsy/letitglitter)
Doesn't Suzanne take the prettiest pics of her polishes?
The polish that made me pick Winter rather than Wonderland, was Jingle Bells. It just
screamed
Christmas at me! Here is the bottle shot.
As you can see, it's slightly pinkish (only slightly, I promise) and has big red round glitters, small green holo hexes and tiny red glitters. Unfortunately the labels are paper, so it came off a bit. I have since put some clear tape over it.
Application was a dream. Two coats would be perfect, I did three because I was planning on taking pictures. I also added a top coat because we had a busy day planned :-) But honestly, I would have been happy to leave it without top coat. It's not too shiny, but I loved the colour and texture with the big red glitters.
I applied one coat, then 'dabbed' on red glitters on the nails where they hadn't come with the brush strokes. Then repeated for the next coat. Drying time was relatively quick for an Indie, I'd say dry to the touch in two minutes. I was comfortable to start using my hands after six minutes.
Here is Jingle Bells on my nails:
I am thrilled with it, it's everything I expected. Can't wait to try out the other Winters!
You can find Let It Glitter on
Etsy
. I will be showing the other polishes too, so stick around if you're curious to see them.
Polishes were paid for with my own money, no compensation was requested, offered or given for this post or any posts to follow about Let it Glitter.