Pretties,
today I have something for you that I personally find very exciting. It will be a lengthy, picture heavy post so I've added a break.
By now everyone is familiar with indie polishes and can name two or three brands. Relatively harder to find though, are European indie polishes. I think this is partly because it's just so friggin' hard to get a good suspension base here. Most companies are hesitant to risk shipping them due to shippers' policies.
So, you can imagine
how excited I was to discover a Dutch indie brand! Guys, let me introduce you to Let It Glitter.
And really, the name says it all. If it's not glitter, this girl isn't making and selling it. I decided on half of the Christmas collection. The Christmas collection is divided in two sets (clever!), being '
Winter
' and '
Wonderland
'. I got 'Winter', and today I'm showing you the polish that made my mind up <3
The polishes arrived quickly and there was a personal note attached. I just love that <3
First, this is 'Winter':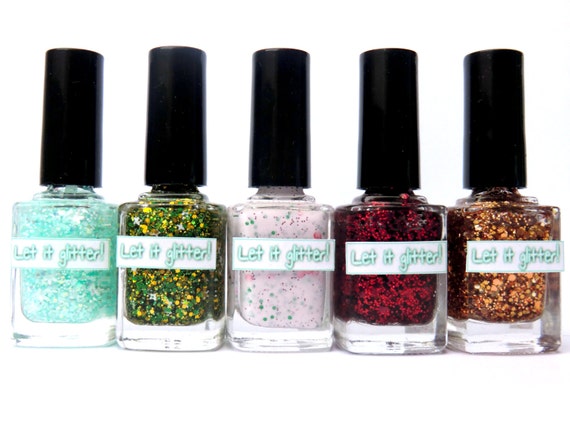 Let It Snow, Christmas Eve, Jingle Bells, Santa Baby and Gingerbread Man (Etsy/letitglitter)
Doesn't Suzanne take the prettiest pics of her polishes?